Women: Stories of Passion (Full season 3 - 1999)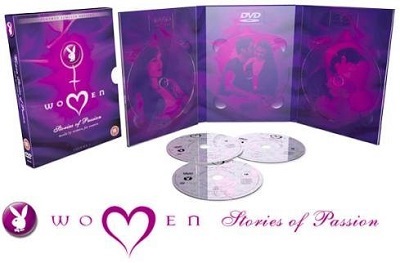 Original title: Women: Stories of Passion
Year: 1999
Genre: Drama, Romance, Erotica
Production: Playboy Entertainment Group, Showtime Networks
Directed by: Elisa M. Rothstein

Country: USA
Duration: 13 ~ 00:25:00
Language: Russian

Quality: SATRip
Format: AVI
Video: DivX 6 720x540 29.97fps 1053 ~ 2000kbps
Audio: MP3 48000Hz stereo 128kbps
Size: 215 ~ 428 MB



Women: Stories of Passion



Episode 1 "Lover From Another Planet": When a neglected housewife leaves her husband, space aliens enlist her to instruct them in human sexuality. As a reward they provide her with her perfect mate.



Episode 2 "The Lucky Bar": The daughter of a Chinese entrepreneur, who owns the Lucky Bar, dreams of using her seductive charms to help her father's business deal.



Episode 3 "Miami Beach Tango": A middle-aged married woman on vacation in South Beach Florida begins taking lesions in love from a young Cuban dance instructor.



Episode 4 "The Gigolo": A powerful woman feels the need to be controlled and frightened in order to reach sexual fulfillment so she hires a gigolo to follow her controlled "scripts" until he insists on writing the script. He creates a fantasy wedding that turns out to be really frightening…the contract is real and legally binding.



Episode 5 "Voodoo": A serious minded doctor begins experiencing erotic dreams about a medical researcher unaware that he is using Voodoo to get her attention.



Episode 6 "The Photographer": When an older woman sits for a portrait with an artistic minded photographer personalities clash but the sparks ignite more than conflict.



Episode 7 "The Tender Thief": Dr. Andrea Morris, a radio talk show host who specializes in love is incredulous when multiple listeners relate their stories of midnight visits from a mysterious lover who leaves them happy satisfied and exchanges a rose for one of their valuables. Andrea is angry and frustrated until the night she meets "The Tender Thief" and experiences a similar erotic dream.



Episode 8 "Trio": A young woman joins the couple down stairs in a ménage a trois but when the other woman becomes pregnant she is again left alone.



Episode 9 "The Feather": Its 1861 and the American civil war is beginning. Abigail is newly wed to and living alone in an isolate setting while her husband is with his regiment. Lonely and unable to work the farm alone Abigail becomes romantically attracted to Hogawa, a Native American, but the times and conventions mean that they can never fufil their desire.



Episode 10 "Luck Is a Lady": Set in the 1950's the wife of a powerful Las Vegas man uses her sexuality to gain the help of a lounge singer in a robbery from her husband's casino.



Episode 11 "Sophie Shpooricky's Night of Love": Sophie refuses to believe in her Polish grandmother's folk magic remedy for finding true love preferring instead her role of a band groupie for her rock star boyfriend "Snake". When Sophie catches Snake with another woman she and her friend Lily go into Macarthur Park and perform the ancient ritual of "June 18th, The Night of love" (with the help of grandma's special 150 proof vodka) and meets the mysterious lover of her grandmother's stories.



Episode 12 "Angel from the Sky": A commitment shy researcher is haunted by erotic dreams of a Mexican folk hero from the old southwest until one day she see him while awake.



Episode 13 "Paradise Found aka Love For Sale": A writer enters a bordello where she, in the persona of Eve, seeks more than just material for her next novel.


Complete season