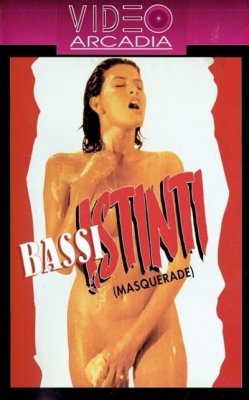 Bassi istinti (1993) Softcore version
Aka: Masquerade / The Black Gloves / Private Detective
Genre:
Thriller, Softcore
Directed by:
Silvio Bandinelli
Starring:
Raven, Joey Silvera, Frederick Piantadosi, Rocco Siffredi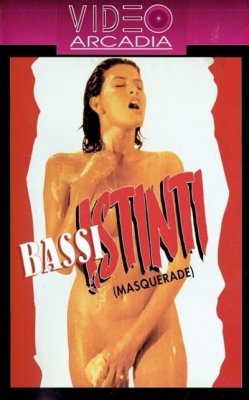 Original title:
Bassi istinti
Also Known As:
Masquerade / The Black Gloves / Private Detective
Genre:
Thriller, Softcore
Directed by:
Silvio Bandinelli
Starring:
Raven (as Linda Forester), Joey Silvera (as Captain Guido Moranto), Frederick Piantadosi (as Anesto), Rocco Siffredi (as Roberto Onorati), Teri Weigel (as Sandra), Eva (Pistarino) Orlowsky (as Anna)
Description:
An antiques dealer in the Italian city of Florence who was about to spill the beans about shady goings on in the art world is murdered by an unknown assailant. Undercover cop Linda Forrester (Raven) is sent to Florence where she teams up with her Italian counterpart Guido Moranto (Joey Silvera). Art collector Anesto has had several works of art stolen and as investigations continue, it is apparent that members of his staff and family have secrets that they would rather keep hidden. 
Was filmed in at least two versions, one as an erotic thriller US style with a slight giallo element, the other as a hardcore porno
This Italian-made erotic thriller is typical of the genre that was being churned out en mass during this period. Unusually though, this one started out as a hardcore porn film but for UK audiences it fell foul of the dreaded BBFC and so only a soft version could legally be seen. The main cast members of Teri Weigel, Rocco Siffredi, Raven and Joey Silvera all made their names in hardcore porn.
Country:
Italy
Duration:
01:29:36
Language:
Italian
Quality:
VHSRip
Format:
MP4
Size:
5,69 GB